Hyper personalization – welcome to marketing 4.0
Last decade, marketing was all about Personalization but fast forward to 2021, it's all about Hyper-Personalization.
Have you observed, How Netflix is able to suggest movies, web series based on past viewing patterns?
Have you noticed how amazon suggests you the new book titles based on your past book purchases or shopping cart abandonment?
How does Facebook or Instagram know about my last search for a florist in my neighborhood or city done on google? (as they start targeting me with florist ads)
I am sure, we all are getting emailers from our favorite brands even if we have not purchased or bought them as yet.
Do you know the biggest challenge for the retail business today?
The answer is to get the customer to shop again and again i.e. Repeat purchase generation.
This is what keeps the cash flow alive.
My article will talk about this new-age marketing mantra called Hyper Personalisation.
Personalization vs Hyper-Personalization
Personalization is the using transactional information like name, title, organization, purchase history, etc when communicating to your existing customer.
Hyper-personalization goes one step further and utilizes behavioral and real-time data to create highly contextual communication that is relevant to the user.
For example: Sending an email to a user (post-purchase) with their first name in the subject line is a typical example of personalization. A good practice, but does not ensure their loyalty in the future.
Hyper-personalization is more advanced. For example, a user browses for a Management book on your app, spends around 15 mins and leaves without purchasing. A quick analysis of the user reveals:
An affinity for buying management books but maybe looking for books on promotions.
Prior search and purchase history for 'X' book by a particular author.
Your purchase patterns i.e. past purchase times (day, afternoon, night, late-night, etc)
With this information on hand, a retailer or eCommerce retailer can target or segment you with their push notifications customized for you.
This is a common technique used by travel booking sites as well as eCommerce retailers.
Why the need for Hyper-Personalization?
Massive competition & fight for customer's mind space (share of voice)– you have less than 5 secs to communicate your key message that you are trying to convey.
According to Accenture, 75% of consumers will be more likely to purchase from someone whose offerings are personalized according to individual preferences.
Top brands like Amazon, Spotify & Starbucks have moved on to a stage of predictive personalization, where AI & machine learning analyze a whole host of factors to power their recommendation engine.
Data is the new fuel, read the case study on stitch fix, click here.
As per statistics, the "Recommendation" section engine, helps the e-tailer Amazon, with 35% more conversions on their website which means more revenues and lesser cart abandonment rates.
Hyper-Personalization – Integrate with Loyalty programs.
Brands who are already having their loyalty programs can scale up their game with Hyper-Personalization techniques.
Hyper-Personalization example – Starbucks.
Starbucks Loyalty program is incredibly successful, boasting over 13 million users.
The app pushes Food and beverage suggestions personalized for each customer with an AI-based algorithm.
It analyses past purchase history, tastes, and preferences to come up with recommendations for each individual customer.
Starbucks engages loyalty program members with personalized games on email and mobile.

Starbucks app sends in-app transaction message with reward details: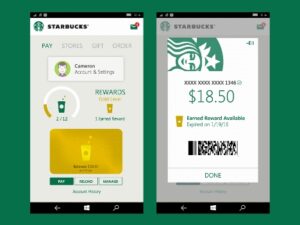 How Hyper-Personalization works?
It works on 3 layered process
User attributes. (age, location, gender, device, name, etc)
Behavioral attributes (search keywords, pages viewed, filters applied, price range searched, discount availed, etc)
Past Purchase patterns (money spent previously, purchased dates, payment methods, purchase time, purchase items, etc)
Armed with this information, Algorithms create a "Lookalike audience" and start targeting the customers with their personalized messages and even Recommendations.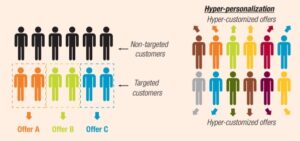 Personally, I use the "Spotify" app and sometimes I get amazed when they customize the song's playlist as per my taste. (being an Arijit Singh fan, my playlist includes most of his recent songs in the list).
Learn how Lenskart is using data to thrive in Omnichannel space, Read here.
A personalized experience establishes goodwill, increases loyalty, and brings a smile to your face.
Summary:
Today the customer is highly evolved and well aware of his needs and what product or brand he or she wants to purchase.
Businesses too are well aware of "Products people buy " and " Products people are sold"
Creating generic customer segmentation buckets and mass marketing campaigns isn't going to work for you.
Learn why 70% of family-owned business closes down as they transition from the first generation to the second generation; click here.
With a surge in customer touchpoints & competition and an information overload in terms of communication, the best way you can attract and hold your customer's attention is through personalized communication and customized experiences.
Hence, Hyper-Personalization is the new Marketing 4.0
About the author:
Ritesh Mohan is a passionate retail professional with over 22 years in the Retail sector, handling some of the biggest brands in the beauty, fashion, and fragrances retail & FMCG sector.
He has been instrumental in the growth of some of the regional brands as well in the Middle East region.
Ritesh specializes in Retail management, Product development, and Brand Management, Retail Operations, Sales Management, and Franchising & Business Management.
He strongly believes in empowering business owners with his wisdom & experience of around two decades in the industry.
Ritesh can also be followed on Instagram as @mohanritesh & on Youtube as @riteshmohan
Buy a " Simplifying retail" book for powering your retail careers & retail stores.
Amazon. ae : Link of the book: https://amzn.to/361bNHy