Marketing Principles in the Digital world – A transformational reality.
Off lately, I have seen many entrepreneurs struggling to market either their e-commerce sites or their digital ventures.
They lack the key basic premise of marketing & advertising.
The age-old marketing principles are still relevant.
My article is dedicated to those early-stage entrepreneurs, who are on their way to scale and consolidate their digital business.
Difference between Marketing & Advertising?
The most common mistake that most entrepreneurs make is that they don't truly understand the difference between marketing & advertising.
They use the marketing term the same for advertising.
Advertising is the Art of Persuasion.
The textbook definition is, Advertising is a way of communication to encourage an audience for making a purchase decision about a product or service and conveying information to viewers.
It is considered a vital and essential element for the economic growth of businesses. It is a paid form of communication. (Digital social platforms has revolutionized this medium in terms of organic growth).
The major aim of advertising is to impact buying behavior;
However, this impact on the brand is changed or strengthened frequently through people's memories.
For instance, you still recall the fragrance or scent of Vicks vaporub.
Marketing is all about finding the needs of the customers, their pain points, researching insights which could be leveraged in the ad campaigns.
Advertising creates Influence in the consumer's mind in terms of changing the perceptions.
Learn how advertising influence buying behavior, click here.
How you can apply these traditional marketing principles in your digital e-commerce venture?
Marketing Principles – Sales funnel creation.
In order to make your digital advertising work for you, you need to create a sales funnel which includes
Create content which is attractive and creates curiosity for the consumers
Create a call to action in your communications; terms like Buy now, start your trial, click here.
Use a retargeting campaign i.e. run ads on digital platforms to those you had either liked or commented or clicked your ad.
Create a simple landing page for the customers to check your offer or service and enter their details for you to reach out to them.
Create some freebie or gift freebies in case they register on your landing page
There are tools like click funnel etc which are very useful in converting your web traffic to customers.
Always give and respect "Goods returns", "100 % money-back guarantee" etc.
Leverage email marketing. There are many free online tools for the same.
Learn about the Branded content form of advertising, click here.
Marketing Principles – Go Hyperlocal.
New eCommerce sites should try to leverage Hyperlocal marketing.
What is Hyperlocal marketing?
Hyperlocal marketing is the process of targeting prospective customers in a highly specific, geographically restricted area, sometimes just a few blocks or streets, often with the intention of targeting people conducting "near me" searches on their mobile.
In terms of objectives, hyperlocal marketing's primary purpose is to drive foot traffic to physical locations and capitalize on near-me searches, which have strong commercial intent.
Near-me searches have become immensely popular in recent years.
Data from Google indicates that near-me searches grew in volume by 130% year-over-year between 2014 and 2015 alone;
If you find it complex, do not worry;
Just go to "Google my Business" and enter the details and you are on.
Hyperlocal marketing helps to increase your SEO initiatives as well.
Marketing Principles – Use Local Awareness ads on Facebook ads
This ad format was introduced for local businesses seeking to raise awareness of their physical location and drive foot traffic to stores.
Simply select this ad format from the list of ad formats in the Ads Create tool, then enter the address of your business.
Next, you'll see a visual representation of the coverage area of your Local Awareness ad, which can be expanded or reduced by selecting the desired radius in the drop-down menu to the right of the address field. Facebook will provide you with an estimate of the potential reach of your ad.
Use Facebook's Local insights" –
One of the most useful tools that Facebook offers hyperlocal advertisers is Local Insights.
Page Insights report has this functionality.
The Local Insights report tells the advertiser just how well their local ads are performing & when most of the targeted consumers would be seeing your advertisement.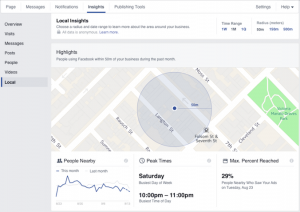 Book "Simplifying Retail" is now published and is full of powerful insights that can empower your retail concept. Grab it from Amazon (global or amazon.ae) or click here (for within India deliveries).
Marketing Principles- Persuasive communication:
Following Persuasive communication, techniques are still relevant in the digital world.
Social proof
Ensure on your eCommerce site, you can add social proof wherein you can mention – '5 people bought it today'.
Add social media sharing buttons for consumers to get a share on their platforms and get social validation.
Scarcity
Use 'only 1 unit left' or 'last chance offer'
Create inbuilt Referral program –
Lush cosmetics is using this strategy very effectively.
Hashtag #LushShowAndTell wherein the customers post their product usage using this hashtag and get featured on Lush's Instagram feed.
Use of the power of reciprocity
In marketing psychology, the reciprocity norm means consumers often feel somewhat indebted to a company if the business gives them a product for free.
For example, when you taste or sample a juice in a hypermarket, you feel indebted to purchase it as well from the sales promoter.
In the digital world, it can be e-books, invite to exclusive launch, etc.
I am confident, the above points will help my readers to scale their eCommerce ventures more effectively. In case you need any input or advice, you may feel free to reach out to me at riteshmohan@yahoo.com
About the author:
Ritesh Mohan is a passionate retail professional with over 20 years in the Retail sector, handling some of the biggest brands in the beauty, fashion, and fragrances retail & FMCG sector. He has been instrumental in the growth of some of the regional brands as well in the Middle East region. Ritesh specializes in Retail management, Product development, and Brand Management, Retail Operations, Sales Management, and Franchising & Business Management. He strongly believes in empowering business owners with his wisdom & experience of around two decades in the industry.
Ritesh can also be followed on Instagram as @mohanritesh & on Youtube as @riteshmohan
Buy " Simplifying retail" book for powering your retail careers,
Amazon.ae :
https://www.amazon.ae/Simplifying-retail-Ritesh-Mohan/dp/9390396042/ref=sr_1_1?crid=3P05GBWPB6ANR&dchild=1&keywords=simplifying+retail&qid=1606116153&sprefix=simplify%2Caps%2C450&sr=8-1
Amazon.com :
https://www.amazon.com/Simplifying-retail-Ritesh-Mohan/dp/9390396042/ref=sr_1_2?keywords=simplifying+retail+book&qid=1606116248&sr=8-2
Amazon.in:
https://www.amazon.in/Simplifying-retail-Ritesh-Mohan/dp/9390396042/ref=sr_1_1?crid=2X4S9PUT0F9C4&dchild=1&keywords=simplifying+retail+book&qid=1606116323&sprefix=simplifying+ret%2Caps%2C261&sr=8-1
Ebook –
https://www.amazon.com/Simplifying-retail-Ritesh-Mohan-ebook/dp/B08LVYSSNX