Either you're a winner or a loser- there is no middle ground in retail. Learn tricks from TJ Maxx.
Read this article if You want to learn the retail tricks from TJ Maxx.
It is a bold statement that I am making and most of you would have heard a famous quote from stars war series by a guru protégé "Yoda".
  "Do or do not. There is no try."
This quote is a simple lesson in commitment and the power in giving something our all — not just giving it a try.
Most of our Middle Eastern value apparel retailers need to follow this mantra in case they need to succeed in 2020.
Being in fashion retail for a long time and being a curious student of retail, I see most of the fashion clothes retailers are out of ideas in order to market their merchandise.
They are still using old school marketing thoughts in order to sustain their businesses like celebrity endorsements, discounting, and sales, price markdowns, etc.
Always remember, "What brought you here, won't take you to the next level"
Your brand needs to stand for something, if you are a value fashion retailer then you need to redefine value and stand for it.  If you are a sustainable brand then stand for it like a luxury sustainable brand Eileen Fisher.
By trying too many things in bits and pieces will not lead you to your destination but would only prolong your brand's declining status.
Let me here give a case study of TJ Maxx to explain my points.
Why TJ Maxx is successful?
Look at the statistics below for TJX, ( we know about TJX, the parent company of TJ Maxx):
TJX's sales have risen for 22 straight years.
Their market stock has increased by more than 24% over the past year.
TJX same-store sales rose 6% in the fourth quarter of 2019.
Opened its 4,000th store in 2017 but has plans to hit 6,100.
Can your fashion retail brand boast of such credentials?
TJX understands how to attract consumers to their brick-and-mortar locations. While all TJX stores are successful, TJ Maxx is the driving force behind the company's positive results.
Let me highlight here factors that I feel have contributed to their success.
The Treasure Hunt.
Management prides itself on having unusual and great value merchandise in all stores – often well-known brand labels – that creates a surprise for customers and extra sales for the store.
TJ Maxx stores give these people exactly what they want, the opportunity to find a brand-name designer product at a bargain price, just like a treasure hunt.
The Neuroscience behind this phenomenon is called FOMO (Fear Of Missing Out).
2) TJ Maxx's strengths lie in their buying and store staff.
Most of the Middle eastern retail companies are being run and operated by CFOs who have no practical experience on the shop floor. They only know to read Balance sheets without having an outlook for making the business turn-around.
So if, given a scenario of like for like sales of a store that is declining continuously, the obvious decision of a CFO would be either to close down the store or cut down on headcounts in order to cut costs.
This is according to me a loser's mindset.
The winner mindset is depicted by TJ Maxx i.e. The company has upped its merchandising staff by 10%. Adding extra people to scour exceptional values.
Management stresses strong vendor relationships that these merchants nurture, and that often leads to unusual buys for their stores.
These buyers understand what their local customers want and are constantly buying inventory rather than only a few times a year.
This allows TJ Maxx to deliver better deals and be more responsive to trends.
Learn why Primark is saying no to E-commerce, read here.
3) Capturing Market Share- The Main aim of TJ Maxx.
Management stresses that it must generate great traffic in its stores.
By offering great values on great brands all the time, they have been successful in achieving this objective.
The company has indicated that customer traffic was up in all divisions.
For the full fiscal year 2019, comparable store increases were up +7% for Marmaxx (U.S.), +4% for HomeGoods (U.S.), +4% for TJX Canada and +3% for T.J.X International (Europe and Australia).
4) Fresh Merchandise hitting the floor is the key:
TJ Maxx has a motto "door to the floor in 24." Their goal is to get the product out on the floor within 24 hours of being delivered to the store.
Their products actually get sold faster – an average of 25 days vs. more traditional stores like Macy's which average 100 days per inventory turn.
5) Stores are built on Low CAPEX.
This is according to me one of the main reasons for the TJ Maxx store's success, low cost to built up means faster break-even of each store.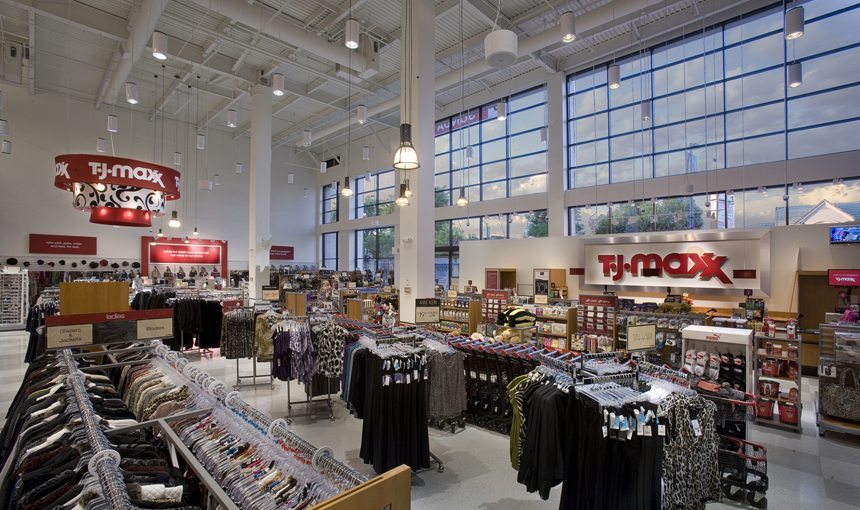 TJ Maxx locations average 30,000 square feet and typically don't have any walls. This allows the stores to quickly rearrange the layout as needed.
How many Middle Eastern fashion retailers would qualify for this criteria?
My answer would be none.
6) Stand for something – TJ Maxx stands for amazing bargains
By understanding their customers and delivering what the customer needs at that moment, TJ Maxx gains trust from their customers. Customers trust they will find a bargain when they walk into a TJ Maxx.
According to Brand Keys' 2019 CLEI survey, TJ Maxx is 1 of the 6 most trusted brands.
Watch out the video on TJ Maxx success:
I would like to sum up my article, as I feel I have expressed key strategic insights for my middle eastern fashion retailers in my article and in case, if any of my readers, would want to learn more about redefining their retail business, then feel free to write to me on riteshmohan@yahoo.com.
You can now subscribe to my blog for free by simply entering your email address.
Every week, key retail insights would be sent to you as soon as the new article is published.
About the author:
Ritesh Mohan is a passionate retail professional with over 20 years in the Retail sector, handling some of the biggest brands in beauty, fashion and fragrances retail & FMCG sector. Ritesh has been instrumental in the growth of some of the regional brands as well in the Middle East region. He specializes in Retail management, Product development, and Brand Management, Retail Operations, Sales Management and Franchising & Business Management. He strongly believes in empowering business owners with his wisdom & experience of around two decades in the industry.