Stitch fix – A Retail transformation story.
Recently, I completed a program on retail transformation from one of India's Premier B-school (IIM-B), and during the course, we undertook several case studies like Threadless and big basket, Webvan, and stitch fix.
Stitch fix is one of my favorites as I relate myself to the fashion & beauty world.
I am writing this article to help my readers and retail fraternity members to take learnings from the real-life case of Stitch fix and learn as to how Katrina lake (founder of stitch fix) transformed her business model.
What is the stitch fix model?
The Basic idea with which stitch fix started was of providing a Personal styling fashion experience and provide customers a personalized fashion outfit, all at a subscription fee model.
Stitch fix selects and mails clothes, shoes, and accessories to its clients based on an extensive style survey (i.e. data).
The better the "stylist" selects the clothing, the more money Stitch Fix makes.
Basically, it is like Netflix of the fashion world.
(Similar to how Netflix suggests programs on your viewing behavior or patterns).
Since its business model is based on predicting the styling that will suit their customer's preferences hence it became obsessed with Data analytics and understanding their customer's fashion sense and preferences.
Challenge is "Getting the style and outfit right for the subscriber every time".
Learn how Rent a Runway is on its way to becoming the Netflix of fashion, click here.
Data is oil – Stitch fix "tinder for clothing"
As part of their Style Shuffle—a "Swipe right" type of "Tinder for clothing"— Stitch fix has found a way to reach beyond the feedback they'd get from customers through buying alone.
By letting customers swipe through different styles in their entire collection, they amass tonnes of data that helps them better understand the customer, as well as age and demographic trends shaping the fashion industry.
More the customer spends time swiping the garments, is leaving a digital cookie which is then analyzed towards his or her liking for the fashion garment.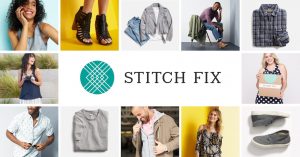 The model is very addictive as Tinder since you are shown garments that a professional stylist has shortlisted for you.
Data points on their customer's preferences make stitch fix's proposition more profitable.
Stitch Fix makes money on clothing sold more so than subscription fees.
The more clothing from one box that fits or flatters, the more profits they will make.
Why Stitch fix is successful?
Stitch fix changed the paradigm
Stitch fix is not fashion but a "tech company which deals in fashion".
Instead of fighting head-on with physical fashion retailers and eCommerce companies, stitch fix has created a blue ocean strategy for them by finding their niche in data analytics.
They share the data points with the designers who in turn ensure that their garments are made in line with their customer's preferences and likings.
"Feedback" is the main crux that stitch fix has provided to designers who never knew about their designs and creations sales movement.
Now with stitch fix, they feel engaged with the customers.
With enormous data points, Stitch Fix is able to see not just products people buy, but products they want to buy.
That's why I give them the credit for changing the paradigm completely.
Whereas traditional fashion brands are either competing on prices or eCommerce companies on the fastest deliveries, Stitch fix has found their niche is providing personalized fashion experiences to their subscribers.
Their commitment towards their "why" (purpose) is so strong that the founders chose to start the company in the Silicon Valley (being a tech hub) rather than moving to New York City (fashion capital).
They had clarity on the core strengths of their business right from the start.
Learn 10 growth hacks for eCommerce business, click here.
Algorithms & Data analytics coupled with Human stylists – Recipe for success.
They aim to bring personal styling to the masses, using data and machine learning to deliver personalization at a mass scale.
Watch the video on why stitch fix clothes have better sizes and fits.
From filing a lengthy questionnaire when customers sign up – evaluating factors like lifestyle, body type, and most-wanted items ;
Stitch Fix's 'Style Shuffle' feature on its app and website allows it to amass huge amounts of data.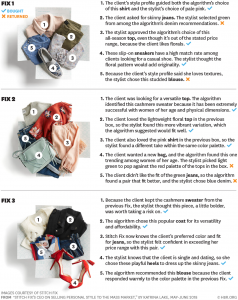 Building robust communication channels with subscribers
On receiving the box containing five clothing and accessory items, the customer gets a sense of belongingness as they've provided their preferences and selected by the stylists, just for you.
Customers provide feedback after each shipment since they know that their feedback will help stitch fix deliver more garments that they want to buy and not what stitch fix wants to sell to them.
It's two-way communication.
Want to learn the basics of category management in 5 mins, click here.
Combing the art of discovery and convenience
The fun of discovering the most sought-after garments, that are personalized and customized as per your body type/fit is beyond capturing in the form of words.
Getting your fashion quotient boosted through personal stylists gives a confidence-boosting to the subscribers which remain loyal to the brand since their self-esteem & social needs are getting fulfilled at the convenience of their homes.
In an interview, Katrina Lake, founder once said,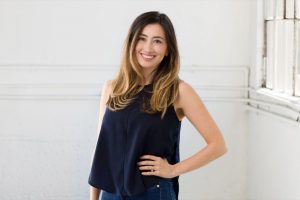 "Our business model is simple: We send you clothing and accessories we think you'll like; you keep the items you want and send the others back.
We leverage data science to deliver personalization at scale, transcending traditional brick-and-mortar and e-commerce retail experiences.
 Customers enjoy having an expert stylist do the shopping for them and appreciate the convenience and simplicity of the service"
I believe this statement from the founder summarizes the brand's purpose.
References; HBR case study – case study reprint 2018 (IIM-B) , CMO network, Guy Raz book-how I built this.
About the author:
Ritesh Mohan is a passionate retail professional with over 20 years in the Retail sector, handling some of the biggest brands in the beauty, fashion, and fragrances retail & FMCG sector. He has been instrumental in the growth of some of the regional brands as well in the Middle East region. Ritesh specializes in Retail management, Product development, and Brand Management, Retail Operations, Sales Management, and Franchising & Business Management. He strongly believes in empowering business owners with his wisdom & experience of around two decades in the industry.
Ritesh can also be followed on Instagram as @mohanritesh & on Youtube as @riteshmohan
Buy a " Simplifying retail" book for powering your retail careers & retail stores.
Amazon.ae :
https://www.amazon.ae/Simplifying-retail-Ritesh-Mohan/dp/9390396042/ref=sr_1_1?crid=3P05GBWPB6ANR&dchild=1&keywords=simplifying+retail&qid=1606116153&sprefix=simplify%2Caps%2C450&sr=8-1
Amazon.com :
https://www.amazon.com/Simplifying-retail-Ritesh-Mohan/dp/9390396042/ref=sr_1_2?keywords=simplifying+retail+book&qid=1606116248&sr=8-2