Artificial Intelligence is proving to be a boon for skincare brands.
The beauty industry was one of the first to adopt artificial intelligence (AI) and augmented reality (AR) solutions as a way to solve consumer pain points, like hygiene and waste that come from community testers and samples.
While the benefits of AI and AR virtual try-on solutions span all beauty verticals—from color cosmetics to eye color and hair color—the skincare category posed a grand opportunity coupled with a unique challenge that required an innovative approach, quite different from that of your traditional makeup virtual try-on.
To learn more about fit-tech and how it is revolutionizing the Fashion sector, click here
AI Skin Tech – Gateway to Skincare Personalization
Personalization is highly valued along the consumer skincare journey, and AI skin tech has quickly revolutionized how brands are able to offer this level of customization across this category.
Shopping for skincare poses a unique set of challenges to consumers, as it requires they are aware and informed about their own skin health and knowledgeable about the ingredients and products that will help them treat their specific areas of concern.
Skin – gamification using AI
AI skin technology also gives customers a chance to take an active role in their skincare journey, tracking progress and results in a fun, new hyper-engaged way.
Consider a hypothetical brand, XYZSKINZ, which has developed a mobile application that leverages AI technology to provide personalized skincare recommendations based on the user's unique skin type, concerns, and preferences.
To read how the skincare brand "Once in a Pink Moon" uses astrology to grow, click here
Here's a case example of how they use AI for personalization and gamification:
Personalization: When new user downloads the XYZSkinz app, they are prompted to create a profile and answer a series of questions related to their skin type, concerns, and current skincare routine. The app utilizes AI algorithms to analyze this information and generate personalized recommendations for skincare products and routines.
AI algorithms take into account factors such as the user's age, skin type (e.g., oily, dry, sensitive), specific concerns (e.g., acne, wrinkles, dark spots), and any known allergies or sensitivities.
The app continuously learns and adapts based on user feedback and interactions, ensuring that the recommendations become increasingly accurate and personalized over time.
The AI-powered gamification features aim to make skincare routines more enjoyable and encourage users to stay consistent with their regimen. Here are a few examples:
a) Skincare Challenges: XYZSkinz app offers interactive skincare challenges that users can participate in.
These challenges can be focused on specific goals like achieving a clearer complexion, reducing fine lines, or improving skin hydration.
Users earn points, badges, or rewards for completing challenges, which adds an element of competition and achievement.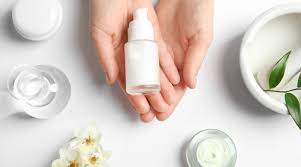 b. Virtual Try-On:
The app's virtual try-on feature allows users to visualize how different skincare products might look and feel on their skin.
Using augmented reality (AR), users can virtually "try on" different moisturizers, serums, etc.
This interactive experience helps users explore new products and makes the skincare routine more engaging.
c) Community and Social Sharing:
The app includes a community feature where users can connect with fellow skincare enthusiasts, share their experiences, and seek advice.
Users can post skincare-related content, such as product reviews, skincare routines, or before-and-after photos.
The AI-powered algorithms curate personalized feeds for each user, showcasing content most relevant to their interests and concerns.
Summary:
Artificial intelligence & its application in the Beauty sector is immense & one such implementation is Skin tech which delivers a personalized skincare regime to users using an AI-powered app.
If you are a business owner operating in the beauty/fragrance genre & want to grow his/her business & need a retail expert to help you realize your vision then feel free to write to me at riteshmohan@yahoo.com.
I have co-founded a retail accelerator for beauty brands called Adhara Retail which is a one-stop retail accelerator for testing brands in retail, Pop-ups & provides expert consulting in Retail leasing, staff training & retail ops, and franchising to scale your brand.
About the author
Ritesh Mohan is a passionate retail professional with over 22 years in the Retail sector, handling some of the biggest brands in the beauty, fashion, and fragrances retail & FMCG sector.
Ritesh specializes in Retail management, Product development, Brand Management, Retail Operations, Sales Management, and Franchising & Business Management.
He strongly believes in empowering business owners with his wisdom & experience of around two decades in the industry.