Loyalty programs are not only sales drivers but also a strategic tool for retailers to retain their customer base.
Loyalty programs- not defined objectively.
"Ritesh, can you help us in developing our Loyalty program?"
This was the question asked me by one of the upcoming retailers.
I asked them – "why are you planning a loyalty program- is it for incentivizing repeat customers or just because you want to stay updated vis-a-vis your competition?"
The question made my client think…
I asked them another question, "what is going to be one major hook in your loyalty program?".
The meeting ended as the client needed more time to brainstorm internally and come back.
Most loyalty programs are mere discounting exercises without even keeping track of the customers buying behavior i.e. on what items are they accruing the points and on which item they are redeeming the points.
Personally, speaking I am the biggest fan of Amazon Prime which according to me is a masterstroke when it comes to the Loyalty program which is coupled with a subscription model.
For your information, it has over 80 million subscribers worldwide.
Do what you do so well that they will want to see it again & bring their friends.

Walt Disney
Loyalty program example – Ulta beauty's ultamate
Another brand that is going big on loyalty programs is Ulta beauty whose loyalty program is called "Ultamate".
At the outset, their loyalty plan seems more like incentivization but once you peel the layers of the program, one realizes that the loyalty program is based on "Honest incentivization".
Your spend of USD1/- gets you 1 point.
But what is remarkable about the Ultamate plan is that they use multiple mediums to reach out to their customers, via email, via messaging services.
They track every customer purchase and try to personalize incentivization for each customer by giving them 2x or even 5X points on their spending.
Traditionally loyalty programs form "Buckets" of customers based on their spending at the store i.e. grouping of customers and then cross-selling them their products.
But Ultamate is different as they hyper-personalize the incentivization and entice their customers with 5X points or sometimes 10X points of special promos either online or offline.
A lot of Ulta beauty locations have awesome salons.
And they always have offers for 2x, 3x, 5x points. That means, for every dollar you spend, you're actually getting $5 worth of rewards.
You also get 2x the points during your birthday month, and they send you tons of other offers throughout the year.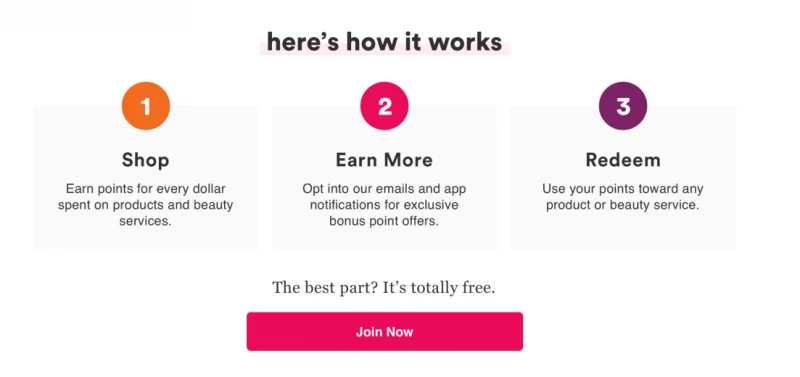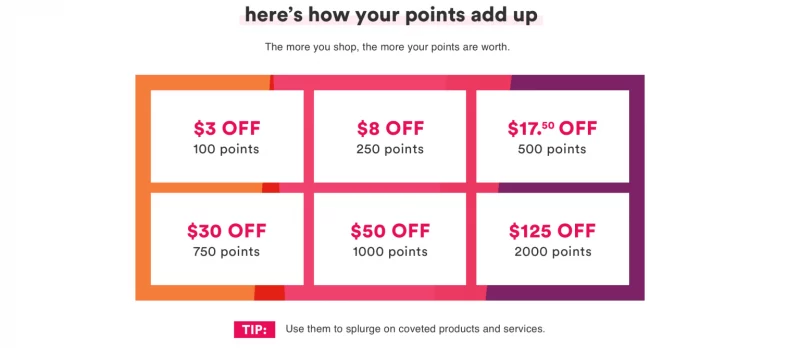 The rewards program allows Ulta Beauty to garner a loyalty most retailers can only dream of.
Sephora, on the other hand only redeems the points in terms of sachets or smaller packs of beauty products.
To learn more about Hyper-Personalization, click here
So how did Loyalty program Ultamate go viral on TikTok?
On TikTok, customers and fans have taken to educating one another on how to make the most of the retailer's famous Ultamate Rewards program.
Check out the video.
the actual customers are posting videos of how they have got their favorite beauty gadget or product using Ultamate points.
Videos on TikTok emphasize " the tailormade" experience of being an Ultamate Rewards member, teaching other users how to stack coupons and maximize points.
Remember, it is not paid influencers campaign but the actual customers who are using their loyalty points are sharing their experiences.
Ultamate performance indicators –
37.7 million members i.e. around 10% of [the population of] the United States, or the size of Canada.
Ninety-five percent of Ulta Beauty's sales come from its members.
Moreover, the program has garnered millions of expressions on TikTok wherein the customers are sharing their opinions on the loyalty program and encouraging their friends to try the ultamate loyalty app.
Do loyalty programs excite millennials, click here to learn more.
About the author:
Ritesh Mohan is a passionate retail professional with over 20 years in the Retail sector.
He has been instrumental in the growth of some of the regional brands as well in the Middle East region.
Ritesh specializes in Retail management, Product development, Brand management, Retail Operations, Sales Management, and Franchising & Business Management. He is the author of two books mainly " Simplifying Retail" and "How to be a shark salesman?"