What makes dollar store concept successful?
The Dollar store boom in the United States during the economic downturn time is a known retail case study taught in several B-schools on how these convenience stores reinvented the retail landscape of the US retail sector with their convenience & discount centers that mushroomed in tier 2 and 3 cities and towns across the US.
How does a dollar store stay in business?
The promise the Dollar store concept made at the start was "convenience" and "low price- everything under a dollar" but with time they have evolved and introduced categories like food on the go, household, and gifts which are more impulsive in buying nature.
With times of inflation, the dollar store concept evolved to "5 Below stores" and attracted discount-seeking customers towards them. 
According to US research, stores like Dollar Tree, Dollar General, and Family Dollar made up to 50% of the new store openings in 2021 in the united states.
Watch the video below
Taking cues from the retail comeback & success of the dollar store concepts, the Asian dollar concept stores like Miniso and Daiso has also made leeway into the US retail landscape.
These Asian brands have slightly tweaked their proposition by focusing on impulse purchases like snacks, toys, gimmick items and decorating doodads instead of household consumables & basics.
Core areas of differentiation from traditional dollar stores:
Miniso:
"$10 N' Under" concept which keeps virtually all its merchandise below that pricing threshold.
Miniso's strength lies in its original and localized designs. The retailer's Miniso Design Academy is made up of designers from Finland, Denmark, Spain, Korea and other parts of the world and "it localizes its products by collaborating with renowned local IP license-holders to release co-branded products."
Special emphasis on toys, housewares and home décor accessories.  It has new convenient multipurpose gadgets (Bluetooth speakers, selfie sticks, selfie lamps, headphones and mobile accessories) assortment mix which is quite popular amongst millennials and GenZ.
It takes the treasure hunt experience that is a foundation of some dollar stores up several levels.
Miniso operates over 5000 stores over 100 countries across the globe.
To Learn why Ulta beauty loyalty program is a big hit on tiktok, click here.
Daiso:
Like China-based Miniso, Daiso has a very large international presence, with 3,600 stores in Japan and another 2,300 worldwide in 24 countries and regions.
It's when it comes to pricing that Daiso (the name roughly translates to "big making") takes a different tack. Its roots in Japan are as a "100-Yen" (72 cents at current exchange rates) store, although many prices are higher – sometimes doubled –, given the added costs of selling Japanese-made products overseas.
The merchandising line-up encompasses literally thousands of skus from apparel to food to home, beauty, kitchen and traditional Japanese paper and craft items. All of it has a classic Japanese design aesthetic.
USPs of Daiso
The mix is much more geared towards household products, toys, home accents and just about anything along those lines you want to buy; Impulse buying is the secret tool used.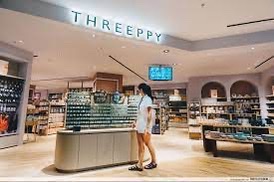 As the retail sector is back to pre-pandemic levels and brand Daiso is reinventing itself and coming out " Just another cheap or dollar store" concept to "Reasonably Priced" positioning.
Check out their new Singapore store at Jurong Point store also features the company's two other brands – Standard Products, which describes itself as having an environmental focus and is making its debut in Singapore, and a newly-rebranded women's line Threeppy.
Both the brands are re-building their retail concepts into Experiential centers which is clear from their assortment mix which as well now caters both sustainable products (under brand Standard Products) and Threeppy- which attracts Tiktok's Genz fashionistas to try out various fashion accessories.
Challenges that dollar store concept /specialty retailer would face
Rising cost of logistics operations would force the retailers to increase their prices
Cost of Manpower in running the retail operations – every store need to become a profit centre in true sense.
Continuous evolution of assortment mix to cater to the ever changing preferences of the customers.
My Learning:
Retail Business is like flowing river, it continuously must evolve itself into new formats; experimentation is the key & staying close to your brand's DNA ensures that the brand's success. The dollar store concept holds a strong promise for growth specially in the times of economic challenges.
Is customer acquisition a new name of retail? click here to find out.